We are based at 14 Grovehill Drive, Falmouth, Cornwall, TR11 3HS. You can contact us in a variety of ways. You can make an appointment here now, or to discuss your requirements please write us an email to info@physiofalmouthplus.co.uk or send us a message using the form below.
Directions to the Clinic:
The clinic is very easy to find and is located in the centre of Falmouth, just a short five minute walk from the centre of town. If you are coming from Trago Mills, walk up the hill on Swanpool Street. When you get to the corner at the top of the hill take the first left hand turning onto Grovehill Crescent. Follow the road down. When you reach the corner take the first road on the right onto Grovehill Drive.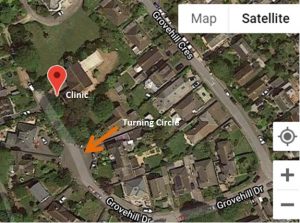 Follow Grovehill Drive all the way up. Towards the end you will find a large circular turning circle. Continue to follow the path straight ahead. The clinic is situated at the end of this cul de sac on the right hand side. There are signs on the driveway which will direct you down the side of the house to the clinic waiting room.
Please note, that we are based at Grovehill Drive and NOT Grovehill Crescent!
There is also currently no parking at the clinic but parking can be found on the street or in the Falmouth Town (Dell) car park which is a short two minute walk away.
This form is currently undergoing maintenance. Please try again later.