Every time you walk, sit, stand or bend to pick something up, your hip joint is engaged. The hip joint is a ball and socket joint and is designed to bear your weight and withstand repetitive movement. The joint itself consists of the head of the femur (your thighbone) and the hip socket, which are both covered in cartilage. A number of tendons, ligaments and muscles also originate and attach around the hip joint, helping to keep the joint in place and to enable movement and function. A number of different structures can therefore be affected and can give rise to hip pain through injury and overuse.
Hip pain can be acute or chronic and can start suddenly or gradually. Typically, pain in the hip region will be felt in the following areas: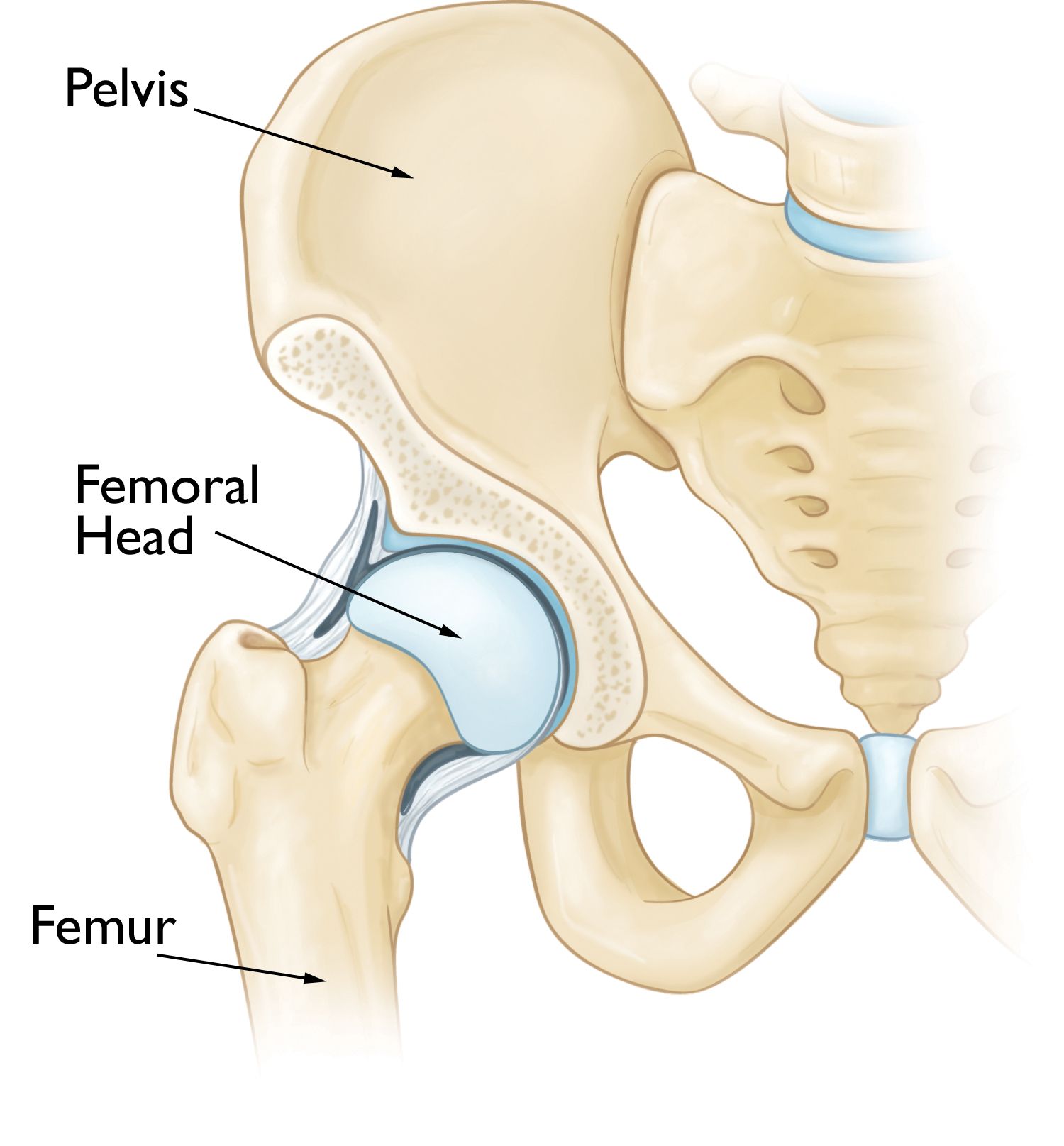 Thigh
Inside the hip joint – this can often lead to a deep internal pain
Lateral or outer aspect of the hip
Groin
Buttock
Where you feel your symptoms together with the nature of your pain and history will help to indicate exactly what is causing the problem. Notably, pain at the hip doesn't always have to originate from the hip itself. It can, for example, be due to pain referral from the lumbar spine or knee.
The main causes of hip pain are detailed below. A variety of different causes exist and the history and nature of your hip pain should help to indicate what the most likely underlying cause of your hip pain is.
Osteoarthritis:
Osteoarthritis is commonly found in weight bearing joints such as the hips and the knees. It typically occurs in people over the age of 50 and occurs when there is thinning and roughening of the cartilage which covers the head of the femur (thigh bone) and hip socket. It can lead to a deep pain within the hip and is typically worse when weight bearing.
Trochanteric Bursitis:
Bursa are thin fluid filled sacs which help to cushion joints and absorb load. Trochanteric bursitis can develop when the bursa which lies on the outer aspect of the hip becomes inflamed. It can lead to lateral hip pain and can be associated with gluteal tendinopathy.
Tendinopathy:
A number of different tendons attach various hip muscles to and around the hip joint. A tendinopathy can develop when a tendon is overused, leading to a degree of inflammation and primarily structural change within the tendon. Typically, the most common form of tendinopathy around the hip includes the gluteus medius tendon and iliotibial band. Both can lead to lateral hip pain.
Osteonecrosis:
Whilst this isn't overly common, if you develop osteonecrosis this is an extremely serious form of hip pain requiring immediate intervention. This condition develops when there is an inadequate amount of blood flow to the femoral head and hip socket. Diminished blood flow will lead to cellular death which can cause the femoral head to collapse. The most common place for osteonecrosis to develop is at the hip joint and it can lead to severe, deep pain at the hip which often comes on quite unexpectedly.
Snapping Hip Syndrome:
A 'snapping' sensation at the hip can occur for a variety of reasons. Often, it's caused by the iliotibial band which snaps forwards and backwards over the lateral aspect of the hip. At the front of the hip, the deep hip flexors can 'snap' backwards and forwards. Thirdly, a tear within the cartilage or labrum of the hip socket can also cause a snapping sensation.
Labral Tear:
The hip socket is covered in cartilage and is known as the labrum. Any trauma, repetitive movement or even genetic factors can lead to a tear in the labrum. This can cause a feeling of quite deep, internal hip pain often accompanied with a feeling of 'catching' or clicking. The pain can be quite sharp and is normally increased when moving and weight bearing or sitting with the legs in an uncomfortable position.
Stress Fracture:
If you run long distances or are involved in high impact sports then you're more likely to suffer a stress fracture. This can often feel quite deep and quite painful and will tend to worsen the more you load and weight bear through the hip joint.
Muscle Strains:
Any muscular strain around the hip and pelvis can cause pain and muscle spasm. The most common form of hip related muscular pain is a groin strain, felt in the inner thigh and groin. Hamstring strains can lead to pain in the back and top of the thigh whilst piriformis muscle tightness and spasm can lead to pain and tightness deep in the buttock. Muscle strains tend to be worse on movement when the muscles are having to contract and work.
Hip Fracture: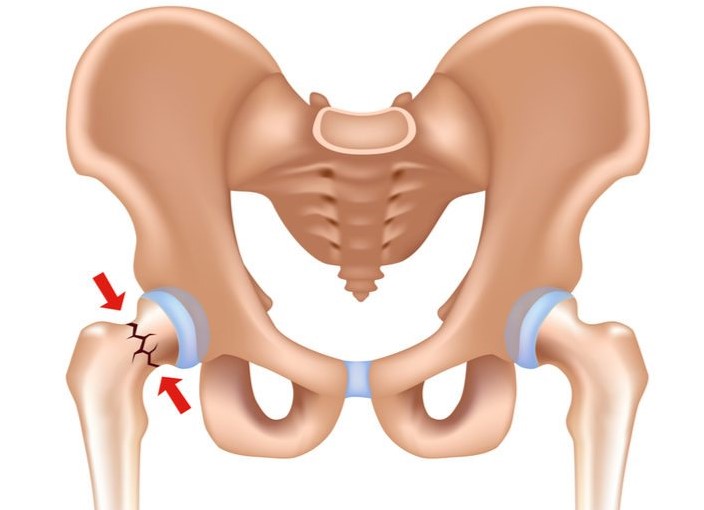 In elderly patients with osteoporosis, hip fractures can be surprisingly common. They often occur following a fall which can often lead to a fractured neck of femur. Treatment requires surgical intervention to repair the broken bones. Most of the time, fractures are normally related to falling or some form of trauma to the area.
Dislocation:
The hip joint is a reasonably solid joint so tends to dislocate far less than, for example, your shoulder. However, a forceful or blunt trauma can lead to a hip dislocation which will elicit a sudden pain. Dislocations can also arise following hip replacement surgery and attention should be paid to this when recovering from this form of surgery. If it arises, a hip dislocation will make walking virtually impossible and seeking immediate medical attention is critical.
When Should You Seek Treatment?
As there's a variety of different causes of hip pain identifying where you feel the pain, how it started and how painful it is will help to guide you regarding treatment. If you've played a game of football and just feel a bit tight in your groin then you may have a mild groin strain which might settle after a few days of rest. Alternatively, if you're tackled during a game of rugby and get a sudden onset of sharp, deep hip pain and a catching sensation then you could have something more serious such as a labral tear. Generally, you should seek immediate treatment if:
The hip pain starts suddenly; for example, following a trauma or with no specific cause
Your hip joint looks deformed or is bleeding
You're unable to weight bear on the affected side
You have a sudden loss of movement in the hip
You have hip pain at night time when at rest
You hear any audible popping in your hip joint at the time of injury
The pain is intense or sharp
You notice any swelling, redness or warmth around the joint
Seeking an assessment with a physio is a great way to address any hip pain. Based on the history, pain location and overall symptoms, the underlying cause of any hip pain can often be identified. If any serious damage is suspected then a referral for an x-ray or MRI can also be arranged.
If you're struggling with any form of hip pain then please let us know in order to arrange a physiotherapy consultation with us.